How your wrestling club can
survive and thrive

in a recession

A guide to protecting your team, and your business, in times of uncertainty

Updated June 2022
By Matt Sencenbaugh
Download the Guide
Want to save the guide for later? Get the guide sent to you, free.
Get the PDF
Introduction
The goal of this guide is to ensure your club survives a recession by reducing expenses, adapting revenue streams, and using a simple financial model to give you confidence that you can make a range of future scenarios work.
Much like you teach our kids to step on the mat with a strategy that plays to their strengths and their opponents weakness, you need to come to your team with a plan for surviving this downturn and creative ideas for growing your wrestling team during hard times.
If you need help, have questions, or have creative ideas you'd like to share, please email me at matt@wrestlingiq.com
A note on health and pandemic safety
Restrictions on masks have mostly disappeared; however, please be sure you follow CDC, state, local, and club charter guidelines. USA Wrestling has published return to the mat guidelines, which also includes ideas for working virtually with your wrestlers if another spike of Covid hits your team.
Recession
How likely is a recession and how long can we expect it to last?
Guessing our precise economic future is an exercise in futility, especially with inflation, war in Ukraine, and COVID-19 in play. Despite that, we can make some broad inferences based on data from past recessions.
Take a look at the latest statistics from the U.S. Department of Labor, particularly the unemployment rate of people aged 25-54 (the most likely age to have kids in youth wrestling), then compare them to the historical graphs below of past recessions: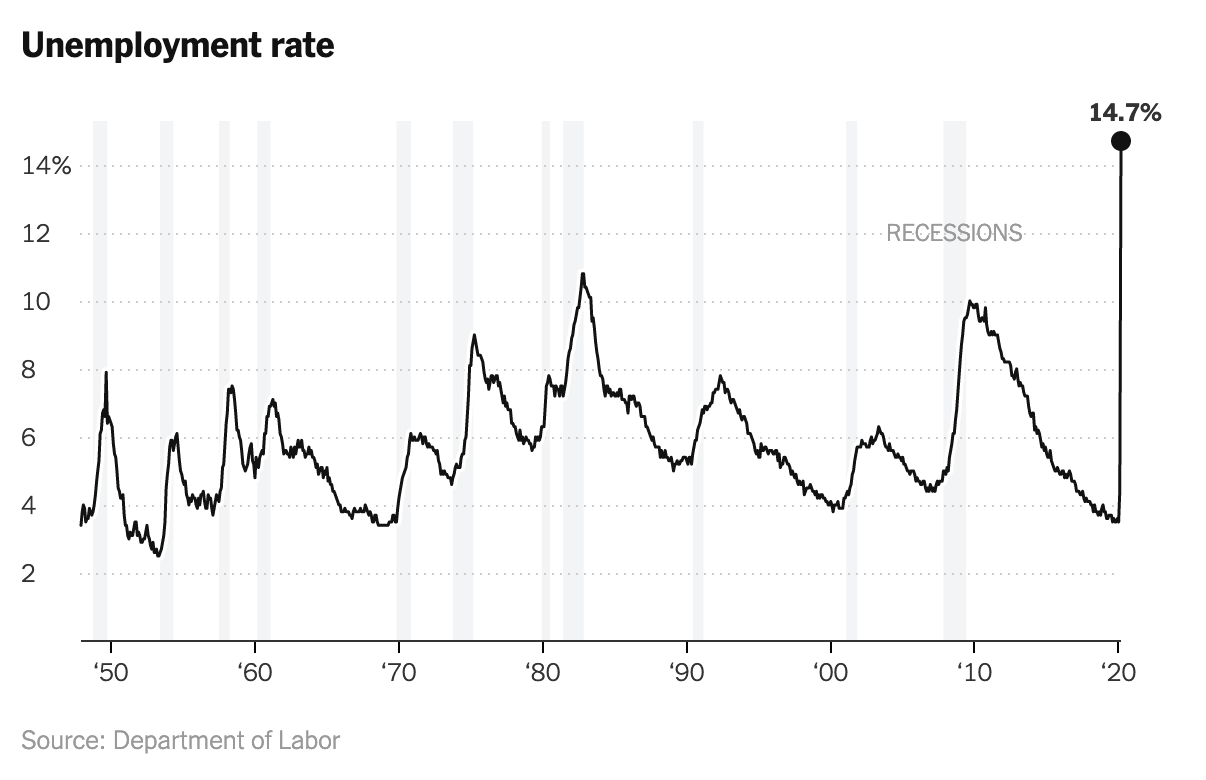 Generally, recessions tend to coincide with unemployment rates higher than 6% of the workforce. These numbers do not imply there is a direct link between unemployment and recessions, instead they reveal a pattern—unemployment data is a reasonable proxy for the strength of the economy.
For many of us, we don't need this graph to feel the pulse of our local economies — if and when recessions hit, it takes time for the economy to recover. Local economies also recover differently since metropolitan areas have unique structures and sources of income [1].
In the face of recession and economic uncertainty we need to prepare for the worst. Streamline expenses, strategize ways to ensure — or even increase — participation in your club, and use creativity to enable your team to prosper in these uncertain times.
Reduce your expenses
Audit your expenses and operating costs to ensure you are cash flow positive
The goal of this exercise is to ensure your team is financially secure and to save up a small rainy day fund for future club improvements.
Sit down with your treasurer or accountant and look through your expenses over the last 12 months. You should be looking to do the following:
Immediately eliminate all unused or unneeded expenses from your team's balance sheet. Get rid of old subscriptions, cut large expenses, and cancel everything that doesn't directly impact the core of your wrestling club.
Research alternative options or negotiate a better deal with your existing vendors. Take a look at your biggest expenses and evaluate any alternatives. If you decide the alternatives aren't good enough, send an email to your current provider asking if they are providing any recession relief. In most cases, businesses would rather lose some money in the short term if it means you can stick around as their customer for the long term. The worst they can do is say no.
Common expense guidelines
This section lays out what you should expect to pay in several categories, so you can recognize if you are overpaying.
Practice space
This one is hard to pin down, because it varies widely between clubs and states, but it is possible to get creative. Ask your landlord how you can reduce your rent, such as volunteer hours at events, or other things they may need. You won't know until you ask.
All-in-one software
In many cases it is more efficient to use an all-in-one software solution, rather than trying to cobble together registrations through Google Forms, payments through Paypal, and team messaging through group texting, for example. One system will reduce training time for new coaches/volunteers, streamline your operations, and could be easier on your team's wallet.
WrestlingIQ[2] is an all-in-one software solution built specifically for wrestling teams. Other options include TeamSnap (you'll need a 'league' package if you want to accept payments), and SportsEngine.
[2] Full disclosure, I am the founder of WrestlingIQ. I firmly believe WrestlingIQ is the best product on the market for club wrestling teams, but I encourage you to explore your options to pick a tool that is right for your team.
Other common technology expenses
If changing to an all-in-one solution isn't worth it for your team, it's still a good idea to take a few minutes and make sure you are getting the best deal with your current setup. You probably have some needs that won't be served by all-in-one software, such as an email address, that is worth price checking.
What follows are common tools you may be using, paired with pricing information to help you understand if you are paying the right amount for your team.
When evaluating vendors, particularly software products, look for performance pricing. Similar to pay-as-you-go, with performance pricing you typically pay nothing up front and only pay when the vendor delivers value to your team.
For example, with registration software, the value to your team is for the tool to make it easy for parents to register. With a performance pricing model, the team (or the parent registering) would only pay a fee when registering and paying for an upcoming season.
Performance pricing keeps your upfront expenses low, works well for the seasonal nature of wrestling, and ensures the vendor is incentivized to help you grow the club.
Domain registrars
If you have a team website, you probably registered the domain name (e.g. www.yourteam.com) somewhere. The price of buying a domain name varies by the type you buy (e.g. .com, .org, .biz, .club) because the prices are set by the organizations that lease the domains.
GoDaddy is the most well known domain registrar. Namecheap is my personal favorite — their prices are generally cheaper than GoDaddy's, and they have better service. Any domain registrar will work, as long as they are within a couple bucks of the prices listed below. It's probably not worth switching if you pay slightly more, but I have seen clubs paying $50 or more per year due to registrars price gouging them.
Here are some sample prices from Namecheap from June 2022. First year or sale prices are subject to changing frequently.
| Domain type | First year / sale price | Recurring annual fee |
| --- | --- | --- |
| .com | $8.98 | $13.98 |
| .org | $18.98 | $14.98 |
| .club | $3.93 | $13.98 |
Domain registration can be really confusing. It's an entirely separate process that sometimes comes bundled with your website, but often doesn't, and registrars do a poor job of providing clear explanations. If you need help transferring registrars, feel free to reach out to me for free assistance.
Email & Online Docs
Having an email associated with your own domain can make your team look more professional, but it does cost a little bit of money.
G Suite, the online email and document product from Google, is a strong contender and costs $6 per user a month.
Microsoft 365 Business Basic, the online Microsoft Office suite, also comes with a custom email address and costs $5 per user a month.
Namecheap Business Email. If you only need email—without online document collaboration— Namecheap offers a very budget friendly email service for your custom domain, ranging in price between $26/year and $38/year depending on their current promotion.
Depending on your team, it may be a better choice to simply sign up for a free email provider rather than signing up for a subscription. Or you could sign up for a single user on either service and set up a few proper sounding email addresses. G Suite allows you to have up to 30 email addresses (e.g. team@yourteam.com, sponsors@yourteam.com) as long as you are ok with all of the emails going into the same inbox. These are called 'email aliases' and are different from having multiple logins.
Whether you go free or paid, it is a good idea to have a team email account and share credentials with your coaches, admins, or board members who need access. Eventually the board, coaches, or team volunteers will change, and having this shared account means the transition will be a lot easier, since you won't have to extricate team emails from personal emails.
Online forms
If you need digital forms for your team, Google Forms is a good option since it's free as long as you have a gmail account.
JotForm is a reasonable step up if you need more advanced features such as payments or branding the form with your team's name & colors. They have both free and paid plans, and offer a 50% discount to nonprofits.
If you are interested in extra password security, 1Password is a fantastic password manager which includes functionality for vault sharing without everyone needing an account. Prices range from $2.99 to $7.99 per user a month. Nonprofit pricing is available for 1Password Teams (50%) and 1Password Business (25%).
Website hosting
If your all-in-one solution does not include a team website, you have several options depending on the skillset of your organization.
If you want a website builder that requires no special software or coding skills, here are a few options:
Name
Price
Squarespace
$16-$40/month
Wix
$13-$39/month
Weebly
$6-$26/month
Carrd (limited to a single page for your entire website)
$19/year
Note: Most of these products have free plans, but none of the free plans allow you to connect to your team's custom domain name.
If you want to fully customize your website, or your team has tech savvy volunteers, Wordpress is a good DIY website solution. You'll need to invest more time than standard website builders, but you don't necessarily need coding knowledge. If you go with Wordpress, affordable Wordpress hosts include BlueHost, SiteGround, and A Small Orange; prices range from $3.95 to $8.80 a month for their base plans.
Banking
Unless you have a specific reason to need a national bank, explore business and nonprofit account options at your local credit union. They usually have better rates than big banks, and credit unions are connected to your community in a way that big banks will never be.
Small businesses are part of the communities in which they operate. So are credit unions. As not-for-profit member-owned cooperatives who are also part of their communities, credit unions are a terrific banking option for small businesses such as wrestling teams.
Reign in rebrand plans, including new uniform designs
The allure of a new team logo, colors, or name can be hard to resist, but it should be avoided for the foreseeable future. Rebrands cost families a lot of money: Parents need to buy each child new gear and singlets. We'll talk about how we can adjust pricing to attract more wrestlers later, but for now, it's worth considering the hardship this could cause returning club members in the upcoming season.
Embrace volunteer hours in lieu of cash
During financial uncertainty, many families will have more time than cash. If a family is having trouble paying, consider asking them to help out at practice, organize your tournaments, run social media promotions, or do something else that matches up with their skills.
Get creative
Just because I didn't list it out here doesn't mean you shouldn't try something else or come up with your own expense reduction strategies. If you've got other ideas and would like to share them, please email me at matt@wrestlingiq.com and I'll include them here.
Have proper levels of insurance
With expenses and income drying up in a recession, your organization may be operating leaner than before. In this reduced financial state, a lawsuit could jeopardize your team.
Many teams are chartered through either USA Wrestling or AAU Wrestling. Being a charter member of these organizations, and having your athletes purchase memberships through them, provides your club with general liability insurance and secondary sports accident coverage. Specific terms apply to each organization, so be sure you follow their guidelines to remain eligible for your insurance coverage.
Safety and security for our members and their families is our top priority, and the insurance benefits for members is a large part of that.
Make sure each child's membership number is a required field in your registration form, and take the time to verify they're valid.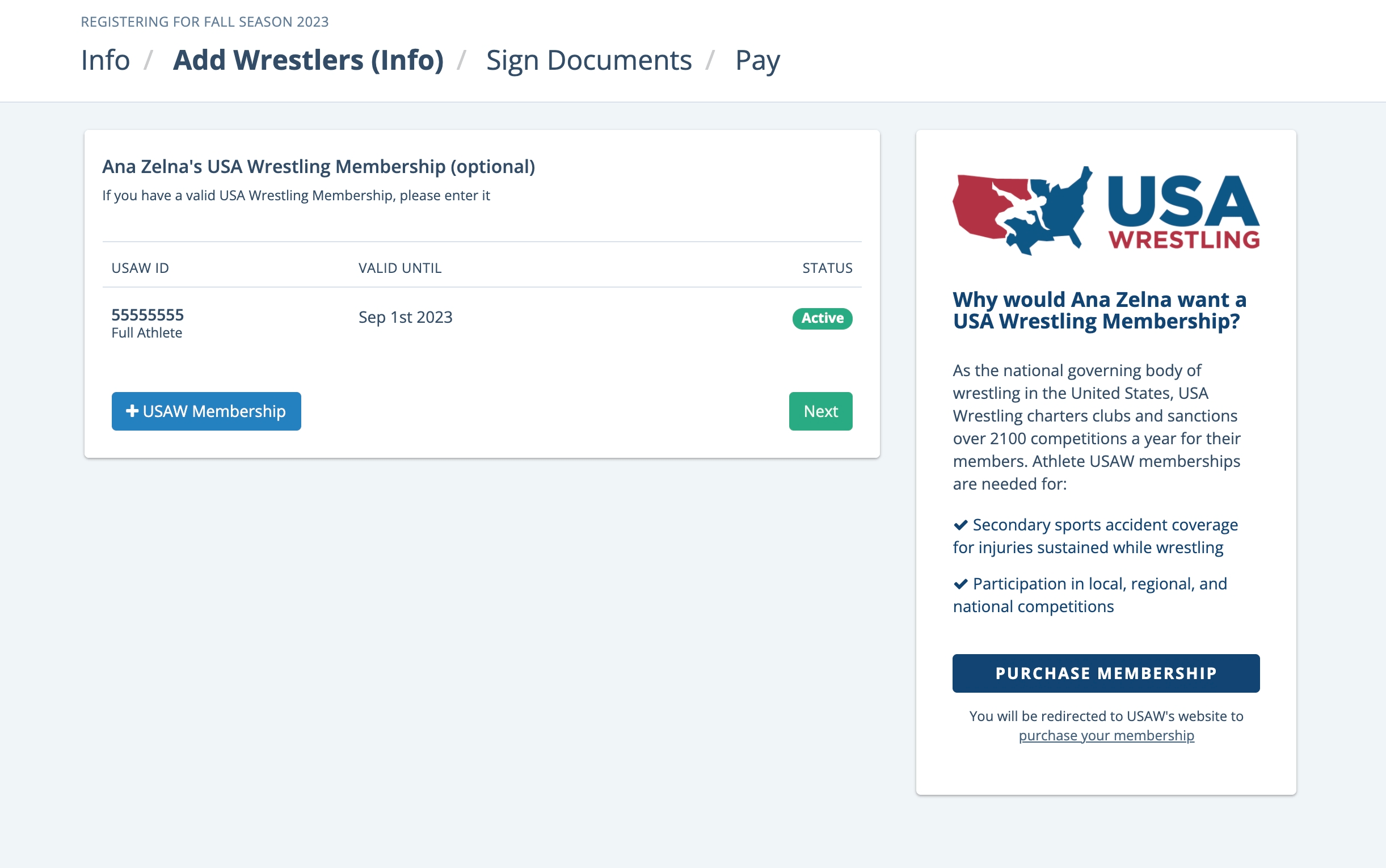 Protect and adapt your sources of revenue
Although sports tend to be recession-resilient, participation can shift away from high cost sports. Due to wrestling's relatively low cost, your club is well positioned to attract new wrestlers in the next couple years. Here are a few suggestions to put yourself in a position to grow your wrestling team.
Transition to installment plans or memberships
If there is one thing to take away from this entire guide, it's that your club should embrace installment plans (seasonal clubs) or transition to a membership model (year round clubs).
Parents may be able to afford a monthly bill, but may be unable to come up with a large lump sum for their kids sports participation. An installment plan is an easy way to welcome new wrestlers and reduce financial burden.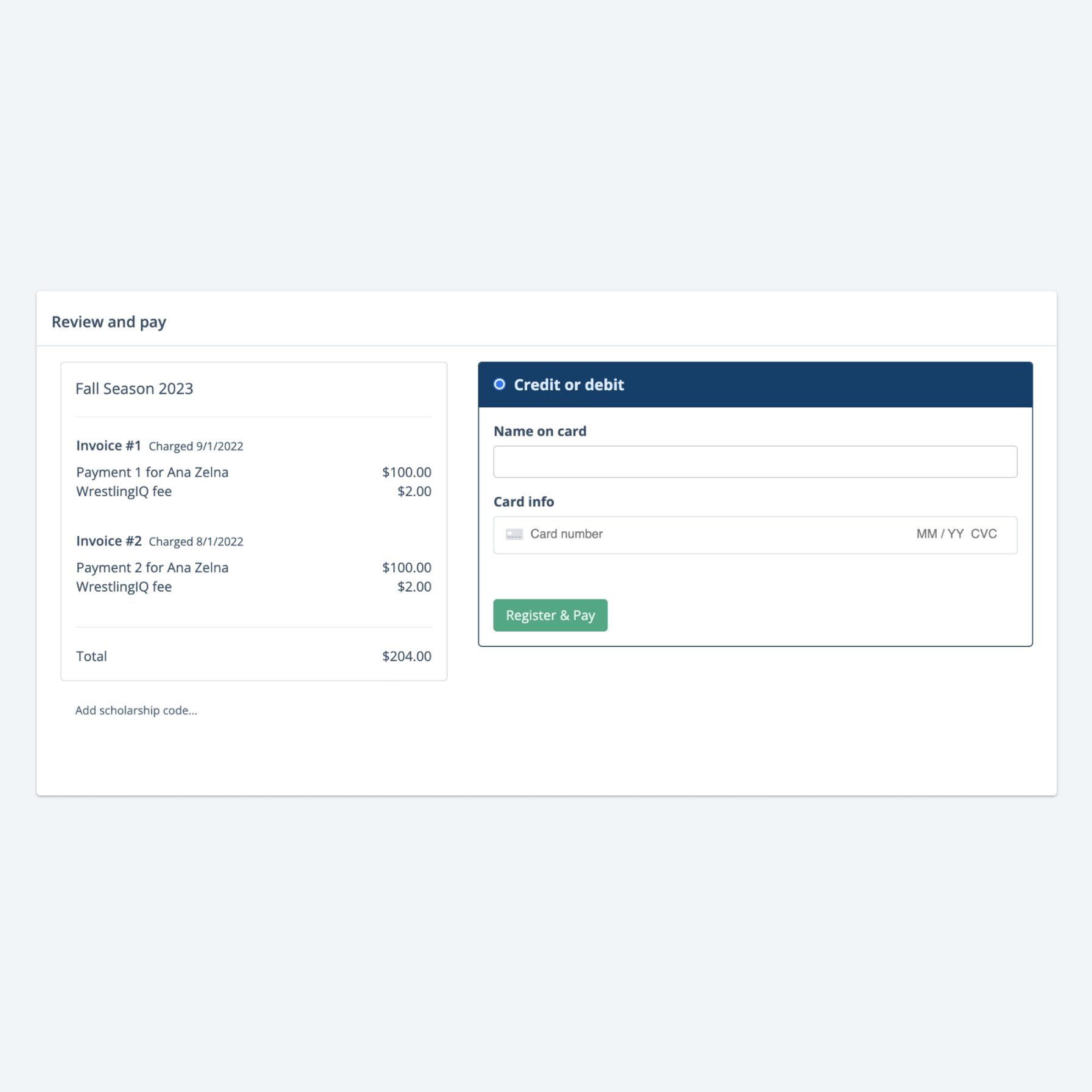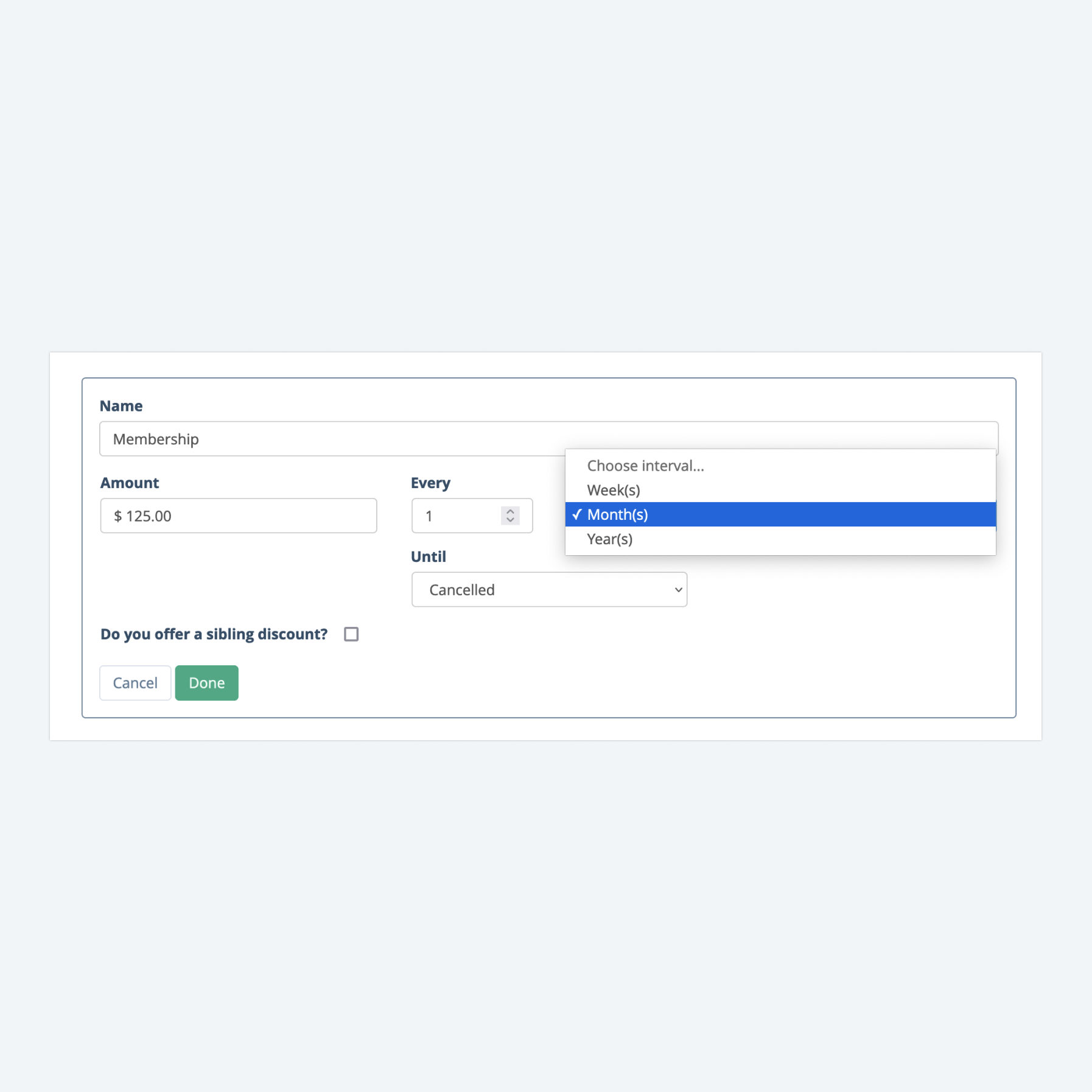 Encourage all genders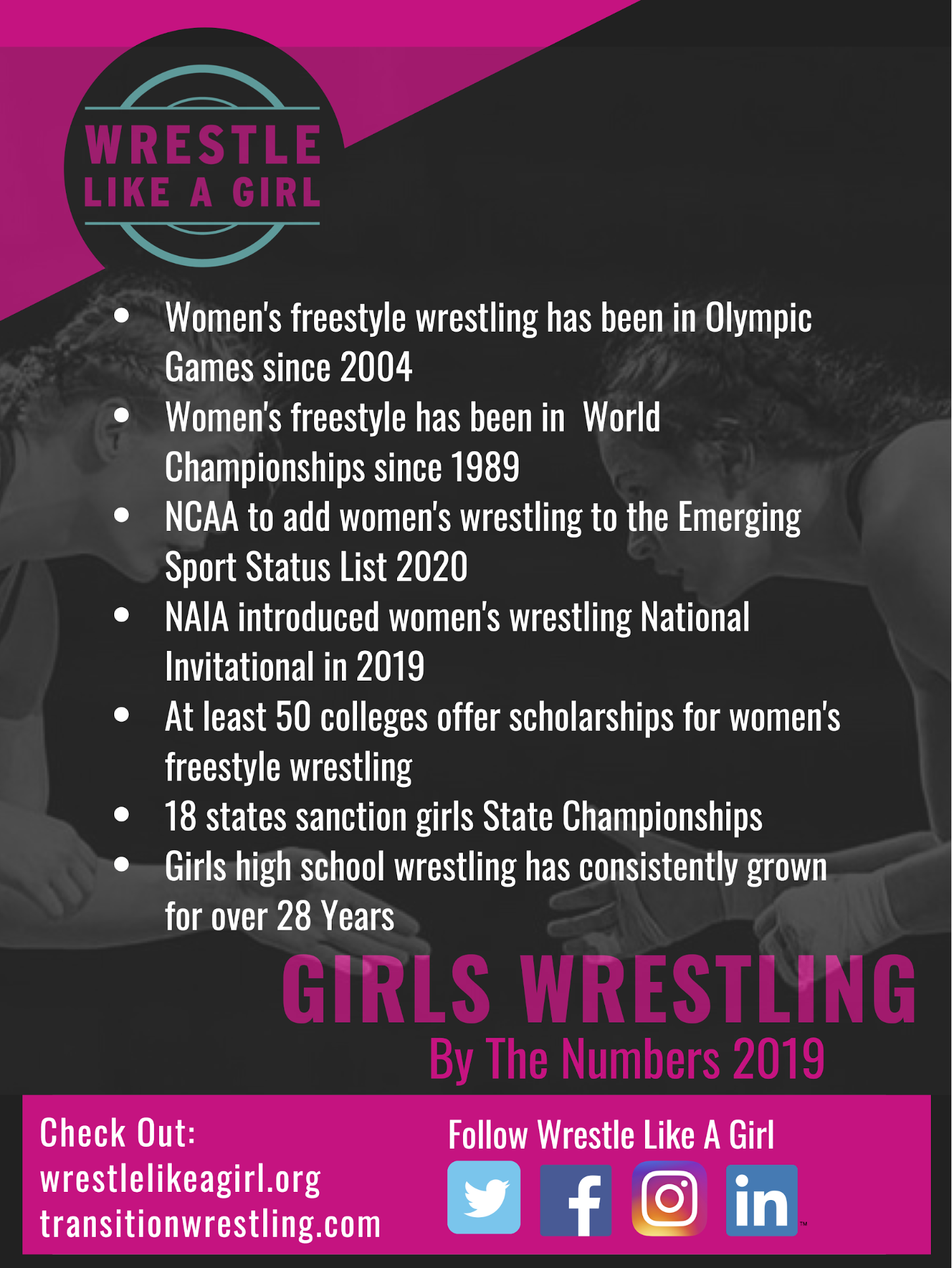 Beyond the technical components of wrestling, the sport helps girls develop accountability, confidence, grit, resilience, self-esteem, and tenacity—each of which are attributes of strong and effective leadership.
You already know that girls wrestling is on the rise. Prospective parents, on the other hand, may not. Make it clear on your website, social media pages, and everywhere else you have a presence that your team allows all children to participate.
"Wrestling is among the most equitable sports; the common denominator is weight, but age, height, gender, skill level, ability and disability are wide ranging. The low cost of equipment and registration fees compared to other sports contribute to wrestling's natural inclusiveness." Sally Roberts, CEO of Wrestle Like A Girl says. "Wrestling teaches girls how to own their own space, voice, and body, allowing them to belong, to be noticed, taken seriously, be seen as worthy, and capable of achieving their dreams. Wrestling is a physiological movement of expression that allows girls to be powerful and take leadership positions—and we need more women leaders!". Wrestle Like A Girl has recruiting posters and an excellent guide for parents if you are looking for ready-made examples to promote girls wrestling at your club.
When you embrace all genders at your club, you are positioning yourself as a team that allows parents to simplify their schedule and reduce costs (particularly if you offer a family discount), while giving their kids a much needed time to exercise and benefit from wrestling.
Politely ask parents for a donation during registration
The people most invested in your club are your parents. During registration, make sure to have a spot in your online form for them to add a donation. You don't want to make parents feel guilty, but parents who have a little extra in their budget are often willing to help out those in need. When making the ask, provide concrete examples of how the money will be used and why it's important to the club.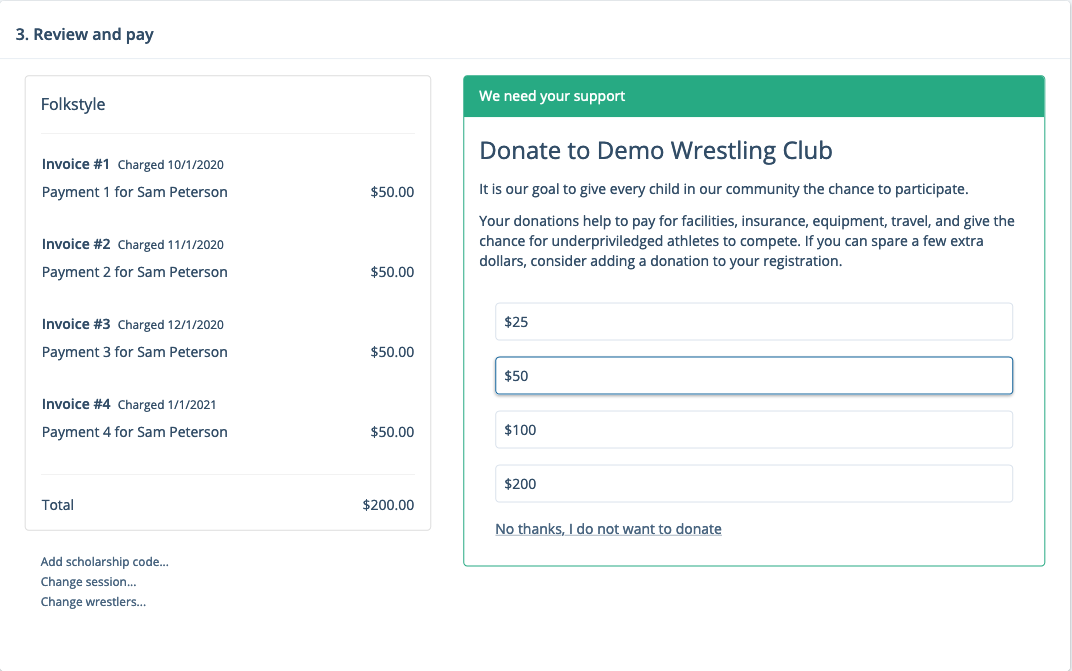 Twenty-three percent of parents donate when teams use WrestlingIQ's Donation Assistant. If you are not using WrestlingIQ, feel free to use the text above as a starting point for your own fundraising.
Be prepared for corporate donors to drop out
With small businesses hurting, you should be prepared for your corporate sponsors to shrink. If you're lucky enough to live in an area that is relatively unharmed by a recession, you might be alright; however, for planning purposes, it's probably safest to assume local sponsorships won't exist next year. It may still be possible, but be prepared to put in hard work to get new ones if this is an important part of your team's budget.
Consider how you can help past team sponsors and provide value to them in their own time of need. If their business doesn't survive, you won't have a sponsor in the future. For example, putting on a virtual #TakeoutTuesday with a local restaurant sponsor may be a good way to garner goodwill and help out your local community's small businesses.
Difficult times create opportunities for businesses and the communities they serve to come together in mutual benefit. Moving forward we should not think about business sponsorships and donations as charitable contributions. Rather we need to create marketing opportunities that both help our business partners generate revenue and raise money for our clubs.
Get creative with fundraising
If your club needs additional revenue outside of registration payments, you might consider alternative fundraising activities. Make sure you have a clear goal and dollar amount you'd like to raise before putting in the effort for additional fundraisers.
Here are some creative fundraising ideas* to get you started:
Put on an event, such as a golf tournament, cornhole tournament, gala, or dinner.
Concessions. Many clubs and booster clubs volunteer at local schools to run concession stands during sporting events and have an agreement in place to keep a cut of the proceeds for their time.
Local bingo game. This often requires a high level of commitment, year-round, but can be lucrative if your local laws permit it.
Car wash
Bake sale
Create a spirit pack of team gear such as shirts, sweatshirts, and shorts for family members and supporters to purchase.
Partner with a local restaurant for a breakfast or dinner event that sends proceeds to the team.
* Check your local laws and current health guidelines before planning.
If you are putting on an event, make sure you offer sponsorship opportunities for local businesses.
Several clubs on WrestlingIQ who have used the fundraising feature to sell golf tournament entry, also make sure to include extra sponsorship options which are available when they buy their tickets. Making sponsorship easy—with 1-click when they already have their wallet out—is a simple way to get extra sponsorship dollars in the door.
Model the future
Now that you have your expenses shored up and a sense of where the revenue for your team is going to come from this year, it's time to model a few scenarios to ensure your club can be reasonably confident in covering its expenses.
Grab a copy of this spreadsheet, and adjust the numbers highlighted in blue. This sheet is an income statement, tweaked for wrestling teams to help predict the impact of reduced participation on team finances.
You'll see several cases modeled, with participation falling all the way to 0% for the worst case. Depending on what you see in the spreadsheet, you may consider adjusting your registration fees, seeking additional sponsorships, or courting private donors to cover any budget gaps you may expect.
Ask for help
I know times are tough. As the founder of WrestlingIQ, and a wrestler, I am willing to do anything I can to help your club thrive during this time of uncertainty.
Whether you need help with business strategy or you need help weighing the benefits of software for your wrestling team, I am happy to talk through the best options given your club's unique situation.
I would like the chance to earn your team's business, but if WrestlingIQ isn't the best fit for your team right now, I'm still happy to help you discover the best solutions for your team. You can reach me directly at matt@wrestlingiq.com or schedule a free strategy consultation below.